Countertop Marketing Pricing Guide
Many of you are in different placing as far as where you are an where you want to company to go. Some have websites and some are using various social media platforms to have a place on the internet. We design our programs to focus on generating sales first and grow into the various ways we can market your business. We also design our programs around your infrastructure to not sell you something you don't need or will have trouble managing.
---
FREE Countertop Marketing ($0)
In markets that we don't currently have a partner we will add you to our partner program. We will send you 10 Local customers and your goal is to close 1. When you do we then area able to expand you reach and start your growth with litter $0 investment. We work from the revenue produced by the new business we bring you!
---
Engage Countertop Applications (From $29/month)
We have many tools that may be integrated into your websites and social media to engage your customers in the process and drive the collection of contact information. With the spark lead management system we track this engagement and drive more opportunities for you to Sell more countertops
---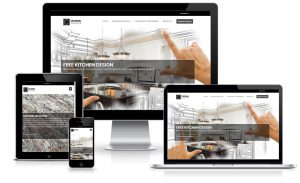 Countertop Websites (From $99/month)
We have a layered approach to countertop websites. We have rapid deploy websites where for a low monthly fee we can target specific keywords such as geographic regions or sub markets where your traditional website may not be ranking. To full blown Content Management Systems to enable participation in content creation and management of the website by internal staff.
---
SEO : Countertop Website Search Engine Optimization (From $399/month)
The websites that we develop are already optimized for organic SEO with all the On page and high ranking results already embeded into the website. Once the website is built we then deploy the off page strategy with our existing network as well as roll out strategies to push the search engines. We offer optimization of your existing websites. We leverage all of our infrastructure that has been built upon since 2008 for the purpose of positioning you high in the organic results.
---
SMM : Social Media Marketing (From $499/ Month)
Create a buzz around a project and show of the great work you do! The consumption of social media just keeps growing and for $.03 per impression we can put an ad in front of your customer is pretty powerful. Because the customer is not actively sourcing a custom countertop fabricator at the time of the ad impression, this is more of a branding exercise. Make an impression, create engagement that will last and be top of mind when the customer is ready to buy.
---
SEM : More Countertop Sales (From $1500 per month)
Target customers that are ready to buy. We develop a program with you that drives customers to your sales funnel. Within a couple days we learn the triggers for your target market and begin the optimization process from day #1. Often we are able to find sales process issues and help address them quickly to transition to a well oiled machine driving revenue for your business.
---
Spark Lead Management System ( FREE For our Partners )
We are able to track every opportunity we generate for your business and provide your team with the ability to track these customers through the sale. This is very powerful for management and owners to see in real-time the effectiveness of the marketing and the performance of staff to turn clicks into revenue.
---
Since 2008 we have been focused on driving custom countertop customers to local professionals just like you. Our goal is to grow your business with direct to consumer sales whether that consumers is residential customers or local commercial projects we bring the buyers and you close the deal!
Call (877) 877-1916
or you can jump over to the FireUps registration form and we will get started right away!
*Prices on website are subject to change without notice. Restrictions may apply.