Our granite website products are developed and tested on our own websites.
We design them to be customize-able and to be able to be integrated into your website and to increase the quality of the customer experience on your website as well as increase the opportunity to contact the customer.

---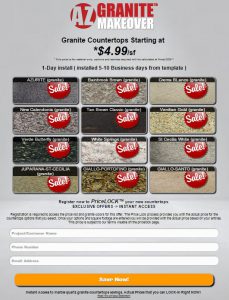 PriceLOCK (PL)
Provide extremely high perceived value, Instant Pricing, and increase your lead volume significantly. Highly customization.
---
Color Selector (CS)
The Color Selector turns boring color swatches into and interactive experience. Website visitors are able to view the color swatch as well as additional images of kitchen bathroom slabs and more. The color detail page has a lead capture form.
---
Instant Countertop Estimator (ICE™)
ICE™ is an application that helps the customers to build an estimate instantly from any website blog or social media website. This application increases your ability to capture valuable contact information by up to 300% or more.
---
 Virtual Kitchen Designer (VKD™)
VKD™ is an application that helps the customers make some design decisions. Our virtual kitchen designer differs from the others in that it is focused on the countertops and works with your specific colors.
---
 Granite Color Search (GCS)
Granite Colors Search is an application that enables the customer to search from over 1000 granite colors and view every color in the Virtual kitchen designer.
DEMO | Get a Quote
---
Verde Fly Trap (Fly Trap)
The fly trap takes what has been static content on a website and turns it into an opportunity to capture contact information from customers interacting on a website.
---
Spark™ (Lead Management)
Spark Lead Manager provides the power to manage all your customers in real time from any internet browser. Manage your sales pipeline and your staff to ensure that you are earning the highest ROI possible.
Call for DEMO | Get a Quote
---
Local Granite Website Package
With a local Website Package we provide you with all our great products and services for a low monthly fee. We provide you with a local domain and first page rankings for targeted search terms starting at only $199/month... Wow!
---
These application can be incorporated into your existing website as SAAS meaning that they will be managed and maintained by us and will require a license either monthly or annually. Contact us for more details.