Do you even know how lucky you are?
The custom countertop business is full of opportunity to show off your work and market the images of your work on your website and in social media.
Customers do not want to see stock photography images. When they do its and instant turn off. Why? Because if this image is seen in other places in your market it will cast doubt on your skills. Customers want to see your work.  They don't care that the photo is not after everything is done. Your not in the home at that point. I would suggest that you try to get some of those photos on the more detailed work but the more original images and photography on your marketing the better.
I just reviewed a RTA cabinet and countertop company.. I looked through the reviews 300+ .. 100% of the reviews are 5*... hmmm??...90% of the reviews had staged photos attached to the review and multiple photos. Not one review was bad or showed any disagreement whatsoever. Really.. come on.. the customers is getting smarter and will not fall for this.
Countertop have consumer vanity baked right in and are purchased as status.
Everyone wants to show off the new countertops. Make that part of your program. If you do good work provide a solid service you will have a great referral base of customers.
More to countertop image marketing than meets the eye....
Today images can't be viewed by search engines.  Search engines read text. But search engines have images and the index is pretty good... So how does this work? It's all about relevance. Contact us to learn more.
I have seen a few apps that look at the colors and makeup of the image data and return images similar.. very cool stuff.
Inventory, facebook/instagram .. other websites
Years ago I asked the question ... what are these social media icons and badges linking off to other websites doing to your website.. Do you have any idea? You spent time building up your website to market your business to only send that user over to social media or to some other website to look at material options. YOU JUST GAVE THE CUSTOMERS AWAY you may never see them again.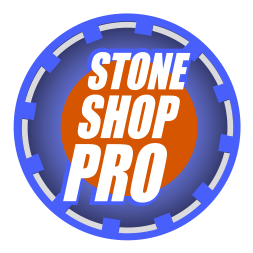 Let me give you one example: You just told facebook that one if its users is in the market for countertops... Facebook .. that is in the advertising business, is now going to rain down ads to this user for related countertop businesses, marketplace suggested posts, to get them to click on ads so they can make revenue.
A gift from you to facebook!
Facebook does not care if they stay on your facebook page and the certainly don't care if they buy your product.
The big question is how many more sales do you want this month? Thats what we need to know.
We provide turn key local online marketing strategies for granite fabricators. We have been specializing in marketing granite countertop fabricators since 2009. We have grown to have partners in 23 states and have grossed over 25 Million each year in countertop sales with our partners.
We provide countertop website design, countertop marketing, Advertising, Branding and more. We track the response through the sale so we are able to maximize your advertising dollars to generate the greatest revenue possible.
---
---
---
Attn: Granite Shop Owner,

Can you handle 10, 20 or 30+ more retail customers per month? Have you wondered what it might be like to have the sales volume back you had in the early 2000s? We can help you grow your business in todays market.
We have hand selected you for this opportunity because from what we can see in your existing presence online and from your competitors that you show the most potential for success. We have generated over 25 million in sales for our partners last year.
RESULTS! RESULTS! RESULTS!
Here are some examples of our current success:
We have clients that does 80 installs per month on our programs. (Yes I said installs)

We accept payment all major credit cards, ACH or can store a card on file.
Goal Tracking
In order to measure the performance of the program we track every lead in an easy to use online tool and mobile website. You can manage your leads and track their progress through your buying process. This enables your team and ours to monitor sales goals in real-time. This is how you track your advertising and grow your business.
We do not stop there, once you see what our website can do for your business and the sales conversions we generate we can drive even more when you are ready. We have programs that cover all facets of internet marketing and have yet to run out of potential customers in any market.
Consulting
We work with fabricators all over the US. We know exactly how to get to the first page in your local market for High converting keywords. We know what also can get us knocked of the first page. We are going to bring you this expertise. We are going to create a website for you just like the ones you see above. We are going to customize it to represent your business. We know of many ways to help position you in the market to drive more opportunities for sales.
Satisfaction Guarantee
If you are not 100% satisfied with our services in the first 30 days simply ask for a full refund of all dollars not put in market (example: paid advertising funds put in market to drive customers area not refundable). We have many very satisfied customers and we are looking for many more just like you.
---