Update March 2020 ...
Granite is still not dead. We have seen a surge of white marble looking quartz over the past year. Quartz still has yet to surpass granite in sales or inquires in the US. When it comes to purchase many customers are still buying granite are they are educated by the local countertop shop
This is the past 5 Years granite countertops vs quartz Countertops Vs silestone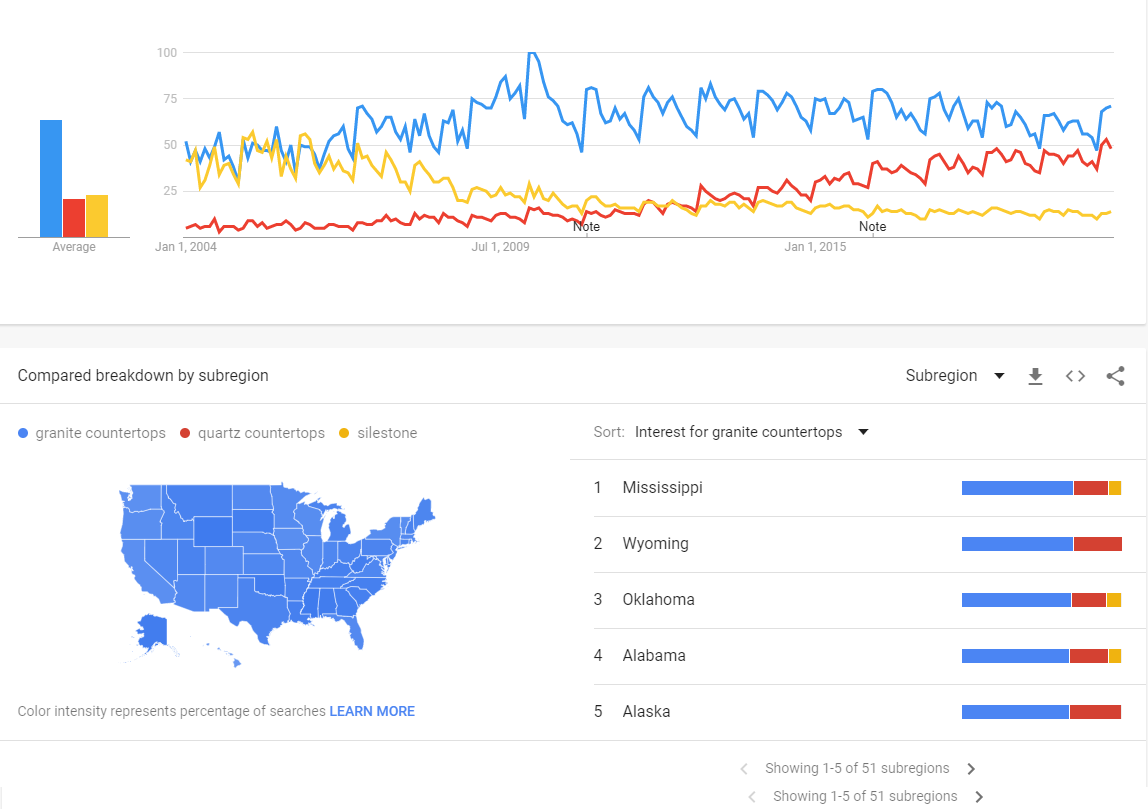 So what does this data tell us.
Granite surged coming into 2009 after the housing bubble and people adding value to homes versus the stock market.  This also tells us that silestone had a big push to capture market share back prior to 2004 and then has lost brand position to the term "Quartz countertops" around 2011. If you take these 2 factors into account granite actually has not lost its appeal to consumers searching for countertops online at all and it has maintained its demand fairly consistently since 2009. Most fabricators sell both products so really its a win win. 
Since quartz countertops started to be produced by other suppliers the cost began to drop and become more affordable over the past 5 years. This also has increased demand but with the recent tariffs on chinese imports this has begun to change. 
Quartz and the demand for more white countertops is driven by the design industry magazines and marketing. Because this is a man made product the manufacturing process has more control over the color. 
The key is to educate the consumer of the benefits of the materials based on the intended use.
Quartz is not to be installed where UV rays can be an issue to discolor the polymers used. With intense heat from the sun the material can change shape. This is not to be used in outside applications.
Quartz is a low maintenance surface and more control over the consistency of color. this makes the material great for commercial applications.
I see granite still having an appeal to the homeowner over quartz as granite is unique and a natural product that can stand the test of time.
*******2019***********
As a custom stone Shop owner you have to listen to what your vendors are saying to you, You have to listen to your customers, you have to listen to your bank account and evaluate all sources to come to your own conclusion.
I just had a meeting with a partner that got an ear full of things he was doing wrong from a marketing perspective from a vendor of his.
Me being his marketing partner obviously gave me some concern. I listen to what was said and then bring specific data to the table to justify what I am bringing to the party.
So i am going to take a couple statements made and dissect them:
My partner asked the vendor why we are not making many quartz sales. What are other companies selling with quartz.
The Statement was made "Granite is Dying" .. now coming from the owner of what was a very large stone distributor - That recently lost a large quartz product distribution contract and reduced physical footprint by 300%.. (I have concerns of the source #1 )
This owner immediately went on to start pushing the quartz button. Today mind you, quartz imports are being hit by tariffs just when quartz was starting to become affordable because of the substandard products being produced overseas.
Today: In this market quartz has reached 32% of the market as compared to granite being 68% of the market. source google trends
over the past 5 years : In this market quartz has reached 29% of the market as compared to granite being 71% of the market. source google trends
I can see that granite is loosing some margin to quartz searches but this also does not factor in what is actually selling or consumer behavior.
Based on my partners data I can see that our website traffic lines up with his sales 80% granite 20% quartz. I look at the amount of impression from the various terms and I can see what this specific market is telling us.
My partner is largely direct to consumer very little commercial work as a % of sales. This tells me that the consumer is being educated on quartz but when it comes to putting something in your home " the real thing" seems to have an allure that engineered stone just cant match.
Commercial applications with control over color design and presentation, Ability to replace with the exact material in the future all have benefits that really do not apply to the residential customer.
So is the statement true that granite is dying.. obviously not. quartz has made some ground based on costs dropping and the current white and grey kitchen trends. Today imported materials like the inexpensive quartz countertops are being hit with tariffs so then I think the market is going to shift back towards more granite and less quartz for residential application.
Consider your target market. Find resources that will help guide you to make the right decisions. I use real life data that has been collected over years to make my assessments and help me guide my partners to more and consistent profits
I use google trends to gauge interest in a product or service. It goes back historically and provides search trends for specific keyword. You can slice this down to your state and see how demand for products and services are changing over time.