Countertop Marketing Plan Development
Developing a marketing plan is a major step in starting a countertop business as well as taking your countertop fabrication business to the next level. In this article we will look at parts of a
countertop marketing strategy
that will help you to implement your strategy.
---
How many installs do you want?
If you know how much business you want this is the first step. By defining the amount of business you are looking to gain you now have a touch stone to measure success. We then attribute the cost associated to generating this business based on general market intelligence and we are then able to project your return on investment.
How many installs can your current infrastructure handle?
Are you the one man shop, sales team with install crew and fabrication crew or are you bigger than this? If you can project out where problems begin with too much business you will have a realistic view of the top line for cost to do more countertop business. To much business is measured by a decrease in quality of service, and reduction in profit due to sales force limitation, fabrication crews over worked and installs going bad based on teams rushing to complete work.
In many markets we find the biggest factor to customers moving to other companies is based on experience of a friend. "Bad referral" This is hard to track but if you notice that the amount of referrals has slowed down this would be a sure indicator that you have an issue with execution of your service.
---
New Countertop Marketing Program Launch a huge Success!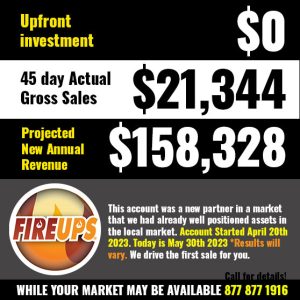 We partnered with a local company on a website that we have that is already ranked. We consulted them on the strategy and launched them in the local market. With this program we have zero upfront fees and we bring you opportunity's to close business. If you close something in the first 10 opportunities we bring then we continue the partnership. The partner pays us a % of the closed business. In the first 45 days we generated $21,344 in revenue and project that out 12 months and we added $1558,328 to the revenue number for the year. 
Our goal is to partner with companies that are looking to grow. This program is perfect for a company that is looking to leverage the internet to grow but afraid of all the marketing snake oil sales programs out there.  In our business we are focused on actual results and move your business forward on these results.
---
What is your competitive advantage and value proposition?
How will do we differentiate you in the market. Look at your competitors and see what they do. How they do it and see who is winning the work. Take this and apply it to your values and see if that lines up with your values and your message. You need to differentiate your business in the market. I just recently learned from a designer that  once of the "High-end" countertop companies in the area has serious issues with execution and has for years. When she came on board with one of my partners she was blown away with how we did so much work without issues in production and installation.
Poor performance is really bad for business... It cost money in lost labor, mistakes, less referrals, ... its hard to measure the effect but its bad.  Monitor your referrals as a measure of your teams performance. If you find that you do 10% referrals month over month that is your benchmark.
How much should I spend on adverting?
Zero. Spend your money on countertop marketing. You can't measure what you don't track. Marketing is advertising but includes measuring and tracking effectiveness of every advertising dollar spent. Once you have tested various channels and have developed your message to drive new business your marketing budget typically reflects 6-10% of sales to sustain this flow of new business.

Our system captures details all the way through the process. Impressions, Clicks, Leads, contacts, Appointments, closed sales. All through this process we are looking for stats that will track performance and provides us with change to identify areas of focus. Example if lead volume changes then we look upstream for other indicators and make adjustments .  Example: Appointment to lead conversion has dropped.. we then look at what has changes and adjust.
Where do I start?
Start on the Internet. Why? it is the best medium to test creative, define your competitive advantage, build you brand and effectively understand the specifics of your market. Learning so much about the customer by driving them to a well formed website will provide you insight into how to define your marketing strategy and provide you with more confidence as you build out your marketing mix(Internet, Print, TV, Radio, etc.) Granite Countertops and Stone Marketing is a great niche' to market online. Track all channels with tracking phone numbers and track-able call to actions. This is very cost effective way to monitor the effectiveness of one channel over another and manage where your money goes when advertising.
When you prove a target customer (on the internet) will buy product/services based on a specific message then we find other ways to get to this audience earlier in the buying process. This is only when you should try what is considered traditional media. Print TV Radio Billboard etc.
Countertop company business plan
Sample Executive Summary:
Custom Countertop Company is a direct-to-consumer business that specializes in designing and manufacturing high-quality countertops for homes and businesses. Our company is dedicated to providing superior craftsmanship, exceptional customer service, and competitive pricing to ensure customer satisfaction.

Our business model is based on a direct-to-consumer approach, which allows us to offer custom-made countertops at a fraction of the cost of traditional retail outlets. By eliminating the middlemen and working directly with our customers, we can offer better prices and personalized service, resulting in higher customer satisfaction.

Market Analysis:

The countertop industry is a lucrative market, with an estimated value of $8.7 billion in the United States alone. The demand for high-quality, durable countertops is steadily increasing, as more and more people are remodeling their homes and businesses. The market is highly competitive, with a variety of suppliers and retailers offering a wide range of materials and designs.

Our target market is homeowners and business owners who are in the process of remodeling or building a new space. We will focus on customers who value quality, durability, and personalized service, and are willing to invest in high-quality countertops. Our company will also target interior designers, architects, and contractors who require custom-made countertops for their projects.

Products and Services:

Custom Countertop Company will offer a wide range of countertop materials, including granite, quartz, marble, and solid surface. Our team of experienced designers and fabricators will work with customers to create custom designs that meet their specific needs and preferences. We will also offer installation services to ensure that the countertops are installed properly and to the customer's satisfaction.

Our company will differentiate itself from competitors by offering personalized service and attention to detail. We will provide customers with a one-on-one consultation to discuss their needs and preferences, and offer expert advice and recommendations. Our team will also provide regular updates throughout the design and manufacturing process to ensure that the customer is satisfied with the final product.

Marketing and Sales:

Custom Countertop Company will utilize a variety of marketing channels to reach potential customers, we have partnered with FireUps which provides turn-key marketing solutions and works with an internal member to transfer skills knowledge and performance tracking to continue to drive new business.

Our sales strategy will focus on building relationships with customers and providing exceptional customer service. We will offer competitive pricing and financing options to make our products more accessible to a wider range of customers. Our team will also follow up with customers after the installation to ensure that they are satisfied with the final product and to address any concerns or issues.

Management and Operations:

Custom Countertop Company will be owned and managed by experienced professionals with a strong background in the countertop industry. Our team will consist of designers, fabricators, and installation experts who are dedicated to providing superior craftsmanship and customer service.

Our operations will be based out of a state-of-the-art facility equipped with the latest technology and equipment. We will also utilize software and tools to streamline our operations and improve efficiency.

Financial Projections:

Custom Countertop Company expects to achieve significant revenue growth in the first year of operation, with projected revenue of $2 million. We expect to achieve profitability by the end of the second year of operation, with a net profit of $400,000. Our projections are based on conservative estimates of customer acquisition and retention, as well as cost savings achieved through our direct-to-consumer business model.

Conclusion:

Custom Countertop Company is a direct-to-consumer business that is well-positioned to capture a share of the growing countertop market. Our company will differentiate itself from competitors by offering personalized service, exceptional craftsmanship, and competitive pricing. We are confident that our business model and approach will result in high customer satisfaction and long-term success.
How do I manage customers effectively?
With a online CRM or lead management solution. You may be able to manage your current work flow in your head or in your day planner but you don't want to be the bottle neck in your business. By managing your work flow online certain aspects of your business can be managed for you to allow you to allocate more of your resources to other tasks like sales , process , and your competitive advantage. A countertop lead management system monitors the effectiveness of each channel and while you track the progress of each sale you will be able to see trends, monitor closing ratios and truly measure the effectiveness of each channel.
Example marketing mix:
(Start here) Internet buy: $2500 : 50 phone calls 40 emails 17 sales = $147 ad Cost per Install (CPI)
Radio buy: $2000 : 40 phone calls 2 emails 3 sales = $667 (CPI)
Print buy: $3500 : 60 phone calls 10 emails 12 sales = $292 (CPI)
Marketing Budget $8000 for 32 installs = $250 (CPI)
Projected sales $2500 x 32 installs = $80,000 Sales per month advertising @ 10% of sales
This example is to show what each channel may cost. Some of these channels may represent branding more than direct ROI. Branding has value and can drive other channels ROI as well.
We start with an internet buy because this is the cheapest way to test your message and ensure that the message resonates with your market. We can typically see results in just a few days.
Who are you?
Since 2008 we have been providing countertop marketing services for custom countertop fabrications through out the US.  We have a vast infrastructure of products and services designed specifically for your business. Our model is base on a shared goal of success.  We have been operating since 2008 without the need to contract our partners. We partner with them and provide success through a target return on investment. We still work with the first company we started this endeavor with.
Prior to marketing countertops our founder managed marketing for a national lead generation business providing special finance lead generation and that company grew to over 100 employees in 3 short years and over 25 million a year in revenue. That experience crafted our unique model by eliminating many of the inefficiencies in that business to what we have today.
We are online
Countertop Marketing experts
that focus on specific markets. We take these specific markets and take the best online marketing tactics and strategies and apply our knowledge of specific verticals to put together a program that can't fail. We do not take on every customer, we don't work in every market. We pick specific verticals that we have a passion about and can make a difference for small to medium size businesses. We are online marketers that specialize in you, the Granite Shop.
Contact Us for a FREE Evaluation! Let's discuss:
Where you are.
Where you want to go.
How we are going to get their!
We are offering a free countertop marketing solution for potential new partners.
#1 A free trial of our lead generation service in select markets
#2 A free Listing in our directories
Countertop SEO Services
We have very powerful tools for moving your countertop website up the ranks in the local market. Our properties can move your business up the ranks. Contact us for more details.
Countertops PPC management
Navigating how to tap Google ads is not as easy as they may make it appear. Since 2008 we have been driving direct to consumer sales in many markets. Our formula drives these customers and our tools engage the audience to create opportunities for your business. Many of my competitor follow the google suggested algorism. Apply every suggestion and follow suggestion like its google and you have to do what they say. When you use the automated google ads all these rules are applied for you.
Because of this My team is able to tap a much higher performance factor because we don't blindly follow the suggestions. We have been using these tools for 20 years and we know them better than they do.